"Glow in the Park Lantern Walk" raises awareness, funds on September 17, 2017
Posted on: September 1, 2017
Paper lanterns have been popular for centuries. Originating in China, they were used as lamps, as decorations for houses and establishments, and even for sending messages during wartime. They were usually constructed from bamboo, wood, or wheat-straw, with paper or sometimes silk used for the shade. The lighted lanterns were generally meant to symbolize a wish for a bright future.
The Glen Ellyn Park District is organizing a "Glow in the Park Lantern Walk" that will highlight creatively designed and constructed paper lanterns, in an effort to raise awareness and funds to benefit the Ann & Robert H. Lurie Children's Hospital in Chicago. The event will take place on Sunday, September 17 at Lake Ellyn Park  from 5pm-8pm.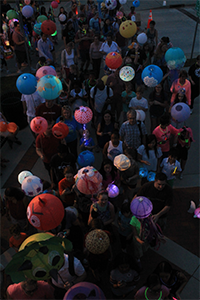 In partnership with Charlie's Corner Foundation, the Glen Ellyn Park District seeks to honor and remember Charlie Cavanagh, a young boy who lived for only two weeks, but touched the hearts of many. Charlie's parents, Sarah and Brendan Cavanagh, created Charlie's Corner Foundation to raise funds through the "Lurie Children's Circle of Friends" program. Monies raised go toward leading-edge research performed at Lurie to increase the chances of a brighter future and better outcomes for children like Charlie.
The Lantern Walk is part of a fun-filled evening planned for residents of Glen Ellyn and the surrounding communities. "We have activities planned for all ages," said Jeannie Robinson, Assistant Superintendent of Recreation Services for the Glen Ellyn Park District. "We'll have bounce houses, an inflatable climbing wall, and live music from Dave Rudolf. Food will be available for purchase from The Stand."
Participants of all ages will have an opportunity to create a paper lantern at the event; supplies are provided for a $10 fee. You can also choose to bring your own creation; if you need instruction, workshops will be held on September 12th and 14th. If you need a lantern/light to get started at home, sets can be purchased in a variety of colors at the Spring Avenue Recreation Center (185 Spring Avenue) for $10 each. The lanterns will be lit with battery-operated LEDs instead of candles for safety reasons. Prizes will be awarded for the most creative lanterns!
"Proceeds from all lantern sales will benefit Lurie Children's Hospital," said Robinson. "Donations are also welcome; people can visit www.donatetoglowinthepark.org if they'd like to help out but can't attend this special event." All donations are tax-deductible, and will be acknowledged by the Lurie Children's Foundation.
The schedule for the Glow in the Park Lantern Walk on Sunday, September 17, is as follows:
5:00 – 7:30 pm: Activities and food
6:00 – 7:00 pm: Live music from Dave Rudolf
7:30 – 8:00 pm: Lantern Walk around Lake Ellyn
Attendance is free, but donations are appreciated. Strollers are permitted, but participants are asked to leave pets at home.
"People are really excited about this new event," said Robinson. "It will be beautiful to see the lanterns moving around the lake. A great turnout will provide a lot of fun for participants, with the added benefit of hosting a successful fundraiser for Lurie Children's Hospital in Charlie's name."
The Glow in the Park Lantern Walk is sponsored, in part, by Aqua-Tots Swim Schools, Dairy Queen (Lombard), The Stand, Bottles & Bottega, Catalano, Caboor & Co, and The Law Offices of Robert F. Kramer, Ltd.