April Showers Bring May Flowers
Posted on: April 10, 2018
The season's first plants are the natural heralds of warmer days ahead. Winter's dismal shades of brown and gray are swept away by the beautiful spectrum of spring flowers. Soon after birds are singing, bees are buzzing, and people are out enjoying the pleasant weather. The world at once comes back to life. The previous sentence is more than garish metaphor, but a declaration on the importance of plants. The rest of us cannot go about our lives without them.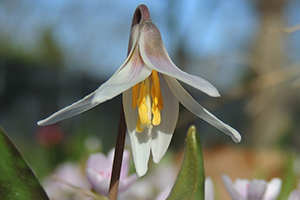 Harnessing the energy of the sun, plants convert nutrients found in the soil into forms that are edible to other living creatures. Without plants, our meals would consist of trying to extract carbohydrates and minerals out of mouthfuls of dirt. The addition of native plants into an urban yard will provide nourishment and habitat to wildlife that cannot be matched with bird feeders and bee houses. A diverse, native garden will play host to microscopic life-forms on up the food chain to the more substantial mammals. All year long, you can help enhance your neighborhood's ecosystem.
Since our native plants have existed in the area for thousands of years, they are fine tuned to living with the onslaught of hazards an ornamental plant would have to resist. They require very little watering once established, do not need to be replaced season after season, have no need for fertilizer, and can shrug off hungry insects.
The Chicago region is home to approximately 1,700 species of native plants, and while only a fraction of these are available in nurseries, there are still hundreds of species available for use in the home landscape. Species can be found that bloom in a variety of colors and throughout the growing season. This diversity allows the savvy home gardener to enjoy blooms from early spring to the first hard freeze in the fall. There are species for every application: dry rock gardens, shady ground cover, rain gardens, hedgerows, arbors, green fences, privacy screening, flower beds, and winter interest.
Over the eons our area's native plants have colonized nearly every inch of useable soil, creating unique and beautiful floral assemblages seen nowhere else. Let nature be your guide to gardening and use native plants!
WHAT WE DO:  The Glen Ellyn Park District performs extensive restoration in our park's natural areas. Activities such as prescribed fire and removal of invasive understory shrubs restore the natural processes of our ecosystems and allow our native flora to once again thrive. Where severe degradation has occurred, parks staff will reintroduce native plant species through seeding and installing plugs. Reconstructing a solid foundation of diverse plant species strengthens the natural areas food chain, provides for an abundance of diverse fauna, and creates a refuge for our local wildlife. High-quality natural areas promote a better community through healthy outdoor recreation, educate by allowing people to come face-to-face with nature, and provide ecological services such as storm water retention and pollution reduction.
WHAT YOU CAN DO: Consider setting aside a small portion of your yard for a native garden. Removing a neglected hedgerow of invasive species like European Buckthorn or Bush Honeysuckle is a great way to clear room for a native planting. Assess the amount of lawn used and consider replacing unused portions with native plants. Create a small rain garden in a soggy portion on the yard; large rooted native plants will use the extra water and increase ground infiltration. Use native trees and shrubs in your landscaping. Our native dogwoods, viburnums, buttonbush and ninebark all produce showy flowers and vibrant foliage. The Greater DuPage chapter of Wild Ones has a great list of upcoming native plant sales in the Chicago region.
YOU MIGHT ALSO LIKE: