Register by July 22 for Fall House Soccer
Posted on: June 13, 2018
Soccer is one of the most popular sports for children. In addition to learning individual ball handling skills, kids learn how to function as part of a team, and how to support others in order to reach a common goal. While soccer can be very competitive, there are also leagues that focus on developing skills and having fun.
The Glen Ellyn Park District offers a House Soccer League during Fall, but the deadline to sign up is July 22nd. It takes time to organize and coordinate the teams, games, and practices, which begin the last week of August. "Our House Soccer program is a recreational league," said Brad Thomas, Recreation Supervisor for the Glen Ellyn Park District. "We have players of all skill sets who play in this league; it's open to anyone interested in learning and playing the game."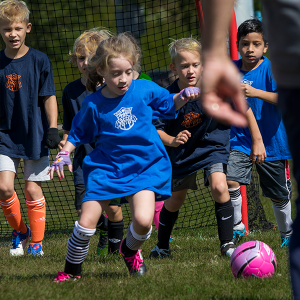 Fall House Soccer is a Glen Ellyn Park District program, but is run jointly with the Glen Ellyn Youth Soccer Organization (GEYSO). Players will learn soccer skills and good sportsmanship, and will improve their existing skills, while undergoing physical conditioning and having a lot of fun. The program is for boys and girls age Pre-K through 10th grade. Additional program information can be found at www.gepark.org/house-soccer.
Games are played on Saturdays between 8:00 am – 2:00 pm at Ackerman Park in Glen Ellyn. The timing of the one weekly one-hour practice will be determined based on the volunteer coach's schedule. Parents will be notified of their child's coach and team starting August 17th. Contact the Park District if you haven't heard from a coach by August 20th.
"Our program offers a Buddy System, which our participants really seem to enjoy," said Thomas. "The Buddy System is an advantage, as it allows the opportunity for players to have familiarity with someone as they join a team, and it allows them to play with their friends."
The late registration deadline is August 3rd; anyone registering after this date will be placed on a waiting list. Those on the waiting list will only be placed on a team if players are needed to complete a team. "It's very beneficial to register early, as teams tend to fill up as we get closer to the start of the season," added Thomas. "Registering early will guarantee your spot."
Players must bring their own soccer ball to practices, and must wear shin guards under socks. Eyewear must be protective. Pre-K through second grade players will receive a team t-shirt, and third through tenth grade teams will receive a jersey and shorts for their uniforms.
Click here to register for Fall House Soccer.
For more information about the league, please contact Brad Thomas at bthomas@gepark.org, or at (630) 942-7288.