Gymnastics offers a variety of health, social, and mental benefits
Posted on: November 27, 2017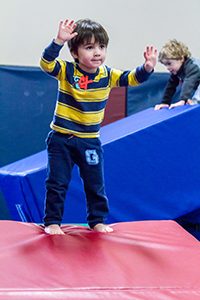 If your children have expressed interest in learning gymnastics, or if you'd like them to benefit from regular physical exercise and an outlet for excess energy, sign them up for a gymnastics class through the Glen Ellyn Park District. Not only will they have fun and learn a variety of new skills, they'll make new friends and develop confidence that will carry with them throughout their lives.
Gymnastics is an extremely popular sport for boys and girls, one that offers a variety of health, social, and mental benefits. From a health standpoint, gymnastics helps develop strength, coordination, balance, and endurance. It increases speed, agility, and flexibility, which helps with posture and is important for preventing muscle injuries. Active children typically grow up to become healthy, active teenagers and adults, reducing the risk of obesity, heart disease, and diabetes in later years. Gymnastics also helps children develop the skills needed to excel in other sports.
The American Heart Association recommends that children get 60 minutes of moderately intense physical activity each day, which involves breaking a sweat and elevating the heart rate. Gymnastics qualifies as an appropriate moderately intense physical activity for children.
On the social side, gymnastics teaches observation, patience, the ability to listen and to follow directions, and respect for others. The social interaction with peers teaches kids how to be part of a team and how to communicate and engage with others their own age, as well as with adults.
Mental and academic benefits are also positive reminders of the importance of gymnastics education. Participants gain self-esteem, confidence, and a strong sense of body awareness and self empowerment. They learn to set goals, and they develop focus, concentration, and discipline, all of which help in the classroom and in everyday life.
The Glen Ellyn Park District offers comprehensive gymnastics programs in a safe and controlled environment for boys and girls of all ages. From a Parent/Tot Gymnastics class for children ages 18-36 months to the Grasshoppers Tumbling Team for ages 5-14, classes cater to children at all ability levels who have a desire to learn and to have fun. A competitive tumbling team is available for those interested in a more challenging experience.
Student feedback regarding the gymnastics program is overwhelmingly positive. Some students have even mentioned how they prefer the Park District's class atmosphere and top-notch instructors to those in private gyms. The Glen Ellyn Park District's gymnastics program has also helped many students overcome shyness, while making new friends and enjoying the challenge of a new sport. For additional information about classes offered, please visit www.gepark.org/gymnastics.
For children in preschool or younger, playtime in the gymnastics center is available twice each week. Come early, as space is limited and pre-registration is not required. Children must be supervised by a parent or other adult.