Boating in the Park Returns this Summer!
Posted on: April 16, 2018
One of Glen Ellyn's finest gems becomes your space for exploration once again this summer! Row or peddle alongside the Boathouse, shores, fishing pier, and out onto the middle of Lake Ellyn during the Boating in the Park series, provided by the Glen Ellyn Park District.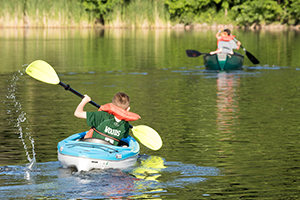 "We listened to our community's requests from last summer and we're happily introducing three more dates for boating at Lake Ellyn this year," said Mary Defiglia, Assistant Superintendent of Special Facilities. "With more and more people finding their way over to Lake Ellyn Park during the summer, we want to give people the chance to truly see the lake from a different perspective, and enjoy the weather too."
Defiglia said that boating is a fun way to get exercise outside, working both your upper and lower body. Instruction is also provided by staff for visitors that are unfamiliar with different rowing techniques. Anyone can visit Lake Ellyn during Boating in the Park days to rent kayaks, canoes, and pedal boats at $5 per boat for 20 minutes.
Boating in the Park is held from noon-4pm on the following Sundays at Lake Ellyn Park.
May 27
June 10
June 24
July 8
July 22
August 12
August 26