Lake Ellyn Park & Glenbard West Sidewalk Improvements Begin July 9, 2018
Posted on: July 7, 2018
In collaboration with the Village of Glen Ellyn and Glenbard West High School, paths around Lake Ellyn and the park will be improved and/or added with construction beginning on Monday, July 9, 2018, and is anticipated to be completed before school activities begin in mid-August. The project will include concrete sidewalk installation around Lake Ellyn to improve safety, accessibility, and sustainability of the current trail.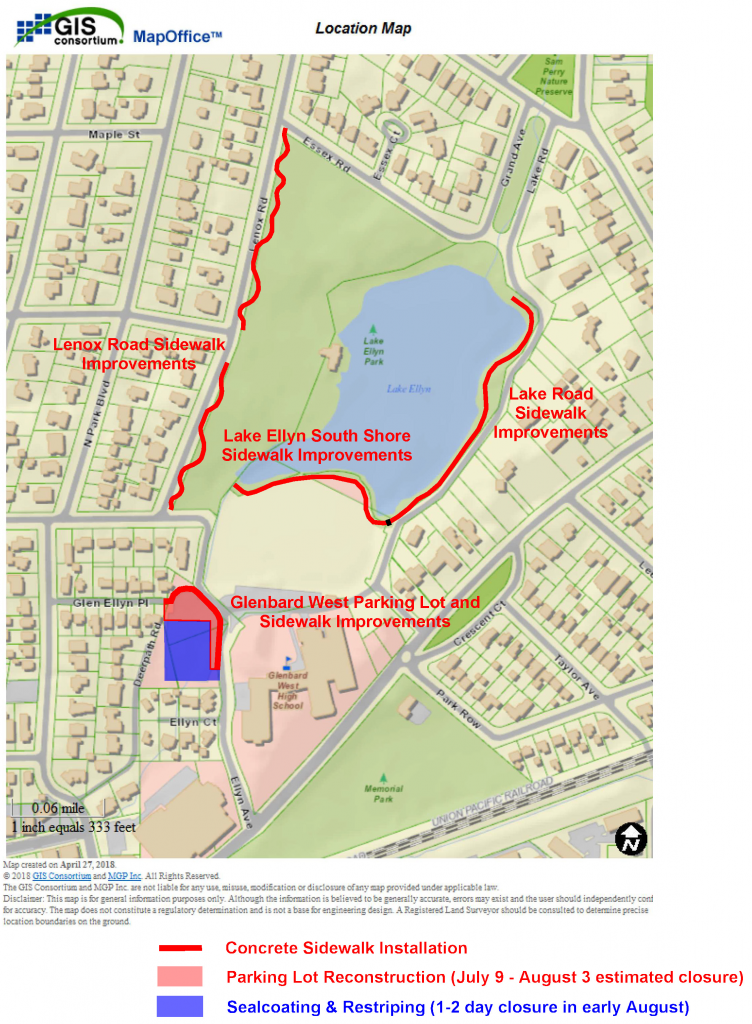 Sidewalk construction will take place on the east side of Lenox Road from Hawthorne Boulevard to Essex Road located on Ellyn Avenue along the north and east sides of the Glenbard West Faculty Lot, and along the south and east sides of Lake Ellyn. Please see the map below for more detailed information.
Work is not anticipated to create any significant impacts to traffic as most will be completed on School District and Park District properties. Aside from construction noise, dust, and the temporary closure of the crushed limestone  walking path around Lake Ellyn, no other disruptions are anticipated as a result of the project.
Construction is expected to be substantially complete in advance of the Tour of Lake Ellyn Bike race on July 28th. At a minimum, sidewalk should be poured and backfilled to be made safe for race activities, with final seeding and touchups occurring after the race. Vehicular access to all adjacent roadways and driveways should not be impacted for any extended periods of time (few minute  delays may occur during concrete pours or material/equipment  drop offs).