Try Platform Tennis for Free in September
Posted on: August 24, 2018
Platform tennis is a fun racquet sport that, while not new, is surging in popularity. The game appeals to people of all ages, and is the only racquet sport that can be played outdoors all year round. It's easy to learn, and is especially fun to play in groups of four.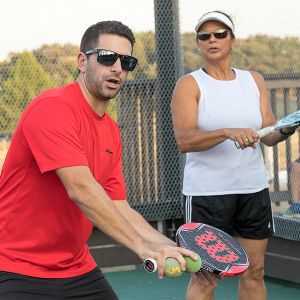 The Glen Ellyn Park District has truly embraced platform tennis, by offering a unique physical, mental, and social experience for the community. From a physical perspective, the game is played on a court that is roughly 1/3 the size of a tennis court. That ramps up the action, with quick reaction times necessary for successful play. The smaller court size reduces the need to run as much as you might when playing tennis, so players with mobility issues are able to enjoy the game. Platform tennis requires mental acuity, too – strategy and communication are very important, especially when playing doubles.
The social aspect is where the Glen Ellyn Park District really hits it out of the park – the facility, open year-round, features six courts with outside decking, along with a Paddle Hut that allows members to socialize inside a warm area while waiting for their upcoming match, or to spend time with friends while watching others play.
The courts are constructed of aluminum decking that features an under-the-court heating system to melt ice and snow off the deck's surface. Grit has been added to the courts to improve traction. Each court is surrounded by a 12-foot-high taut fencing structure that allows players to play the ball off the fence. Courts are lighted, allowing play until 11:00 pm.
The paddles are also unique, as they're constructed with a specific number of holes drilled into the head of the racquet, making it more aerodynamic. The longest the paddle can be is 18". The spongy rubber ball is 2 1/2 inches in diameter, and features exterior flocking to make the outside of the ball less slick.
The Platform Tennis Open House on Friday, September 21st features free clinics and professional exhibition play, and is a fantastic way to learn about the sport without a long-term commitment. The purpose of the Open House is to allow new players to learn about rules and strategies of the game, to discover how to become involved with the program, and to meet and socialize with other interested participants. Light snacks and beverages will be served. The event is free, but please register in advance.
Mark Cunnington, the Glen Ellyn Park District's Platform Tennis Professional, has been teaching, coaching, and organizing the racquet sports programs for the past three years, and is ranked in the top 40 for platform tennis players in the U.S. "I'm excited to hold these free clinics at our upcoming Open House," he said. "We'll hold a Juniors Clinic from 5:00 – 6:00 pm, a Ladies Clinic from 6:00 – 7:00 pm, and a Mens Clinic from 7:00 – 8:00 pm at Maryknoll Park. We'll wrap up the clinics with a Pro Exhibition and open play from 8:00 – 9:00 pm."
Registration is currently open for residents and for non-residents; visit www.gepark.org/register to sign up for this terrific free event. If you have questions about the Platform Tennis program, or the upcoming Open House, please contact Mark Cunnington at gepaddlepro@gmail.com, or visit www.gepark.org/platform.
Additional Platform Tennis program opportunities for ages 18 and over include Quick Start Paddle, a five-week "crash course" in platform tennis beginning in early October, and Beginner Paddle Boot Camp for both Men (Thursday, 9/27 from 6:00 – 8:00 pm) and Women (Wednesday, 9/26 from 6:00 – 8:00 pm). Boot Camp is a 2-hour session that teaches the basics of the game and how to use what you've learned. Try out the Boot Camp, and when you love it, sign up for the Quick Start Paddle classes to hone your skills. And for adults interested in trying Pickleball, come to the Village Green on Saturday, September 22nd for a FREE clinic from 9:30 – 10:30 am!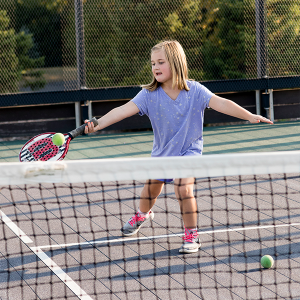 Since kids want to join in the fun too, Mark will continue to offer the popular Kids Paddle & Pizza program (for ages 5-14) on Mondays from 10/22 – 12/3, from 4:30 – 6:00 pm. Kids will learn skills and drills, play some games, and then enjoy pizza in the Paddle Hut with Coach Cunnington!
For players wanting to improve their skills and increase their platform tennis experience through competition, the Park District offers two in-house leagues; one is co-ed, and meets on Mondays from October 15th – December 10th from 6:30 – 11:00 pm. This league introduces new players to the game, and also provides a great experience for seasoned players. The GOLD option, new this Fall, includes entry into the league and six additional lessons on Sunday evenings during the regular league session. All games are played at Maryknoll Park, and players will be ranked and placed accordingly on appropriate teams. The second in-house league is for Ladies, and is geared towards beginners and Series 16 players. Teams play Tuesday evenings at Maryknoll Park with other Glen Ellyn Park District Platform Tennis members.
Advanced players can join the Glen Ellyn Park District's Platform Tennis Travel League. The Park District has partnered with the Glen Ellyn Platform Tennis Club (GEPTC) to allow members to participate in the Mens Chicago Platform Tennis Charities League, which involves hosting home matches and traveling to other communities. The Ladies Travel League participates in the North Shore League, and travels during the day. All Travel League members must hold a Glen Ellyn Park District membership.
Coach Cunnington also provides 30- or 60- minute private and semi-private platform tennis lessons. Semi-private lessons can include two or three individuals (plus the Pro). Lesson packages are also available. For more information about this fun and exciting sport, please visit www.gepark.org, or contact Coach Mark Cunnington at gepaddlepro@gmail.com.